✨Transform all your crystals and stones into a beautiful and secure necklace, and embrace their energy wherever you go. Swap them out and change your crystals every day to match your mood and intentions!

Carry your crystal's energy with elegance with AuraHolder™ by Havenlyn. Here's why you'll love it:
Effortlessly swap out your favorite crystals to match your daily intentions and mood. Perfect for crystal lovers to carry different gemstones every day.
Keep your precious crystals safe and secure close to your heart, eliminating the worry of losing them when you are on the move.
Say goodbye to the tedious wrapping of individual raw stones! Just drop your stone into the AuraHolder™, tighten the knob, and you're ready to wear it out.
Transform all your favorite crystals into a stunning piece of fine jewelry that will go with any outfit.
No need to buy multiple necklaces for different crystals; AuraHolder™ offers versatility in a single design
Made from high-quality stainless steel that is sturdy and long-lasting, designed to protect your crystal stones better. Rust and tarnish resistant and hypoallergenic with minimal maintenance required.
Perfect gift for crystal lovers, meditators, and yogis seeking mindful moments on the move.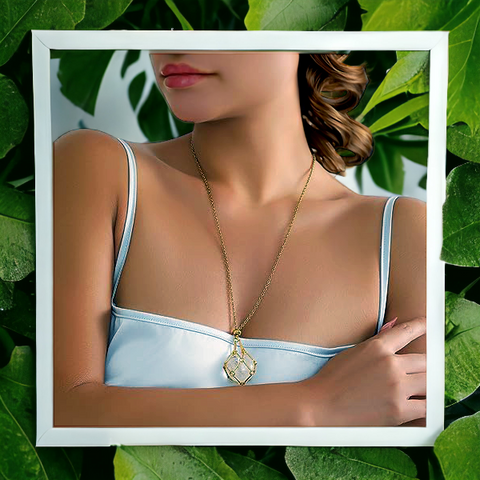 *For a limited time only, get a FREE crystal with the purchase of every AuraHolder™ necklace, or upgrade your order to get all 9 crystal stones listed below!
🟣 Amethyst: Peace, Protection, Healing
🟡 Citrine: Happiness, Prosperity, Self-Confidence
🟤 Tiger Eye: Protection, Courage, Strength
💗 Rose Quartz: Kindness, Unconditional Love, Self-Love
🟢 Green Aventurine: Luck, Abundance, Healing
🔵 Sodalite: Calm, Harmony, Intuition
🔴 Red Jasper: Passion, Support, Protection
⚪ Clear Quartz: Clarity, Healing, Protection
⚫ Black Obsidian: Strength, Positivity, Protection
DETAILS
Handmade item
Nickel-free and Hypoallergenic
Material: Stainless Steel
Adjustable Chain Length: 23" to 25.5" (60 to 65cm)
Suitable for crystal stone size 1" to 1.3" (2.5 to 3.5 cm)
Note: Because of natural differences, crystals may come in slightly different colors, shapes and sizes.