Say goodbye to drooping earrings once and for all!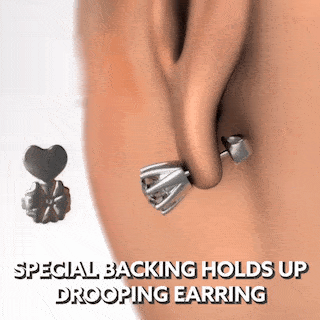 Sometimes you find your earrings not sitting upright where they should. And heavier earrings stretch and even tear your earlobes.
Now you can wear your favorite post earrings without worry. The Earring Back Lifters have a unique shape to lift your earrings upwards for more security and comfort. And suitable for correcting bad piercings and stretched earlobes.
These earring lifters secure your earrings to your earlobe and lift them up to look better and prettier in place. Easy to use and comfortable to wear all day, it is a must-have item for earring lovers!
Create your beauty and charm from the details, so that you have a flawless appearance.
DETAILS:
Material: Hypoallergenic, Copper, Gold Plated
Size: 1cm by 1.4cm
Hole diameter(Earring Needle): 0.9mm.
Weight: 0.9g
Design: Earrings Back Lifter
Color: Yellow Gold, Silver
2 Pairs (4 earring backs)
PACKAGE: 10 Pairs * Earring Back Lifters
HOW TO USE:
Simply slide earring lifts onto any earring post and notice how your earring sits more upright.
Tighten or loosen as needed to fit your earring.
If too tight, place it on a flat surface and insert a credit card, or even your fingernail, between the two backing clips to loosen the clutch.
If too loose, pinch the backing clips together to tighten the fit. If further tightening is required, you can use needle-nose pliers very gently.
TIPS:
Soft to wipe.
Avoid chemicals.
To avoid a collision.
Avoid sweat.
Avoid sleepwear.
To avoid water to wash.