TO MY SON,
NEVER FEEL THAT YOU ARE ALONE.
THIS BRACELET WILL ALWAYS REMIND YOU THAT WHEREVER YOU GO, NO MATTER HOW NEAR OR FAR APART,
I AM ALWAYS RIGHT THERE IN YOUR HEART. JUST BELIEVE IN YOURSELF AND REMEMBER YOU ONLY FAIL WHEN YOU STOP TRYING.
FAITH DOES NOT MAKE THIS EASY BUT IT MAKES THEM POSSIBLE.
NEVER FORGET THAT WHATEVER LIFE THROWS AT YOU, THIS OLD LION WILL ALWAYS HAVE YOUR BACK.
I LOVE YOU ALWAYS! LOVE, DAD"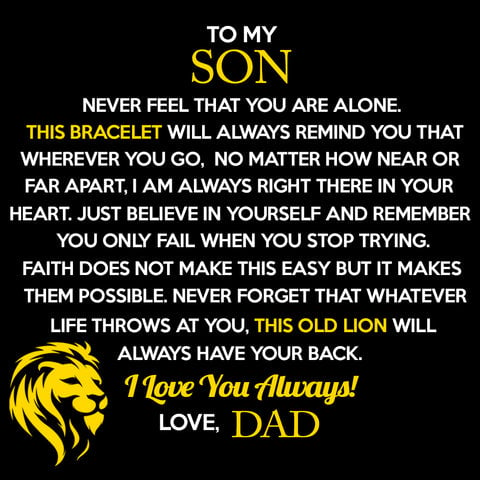 The Old Lion Bracelet symbolizes eternity and never-ending love, it helps boost happiness and reduce feelings of loneliness and isolation. The bracelet will remind your loved ones how much they mean to you and give them that assurance they need during the day even when you're not there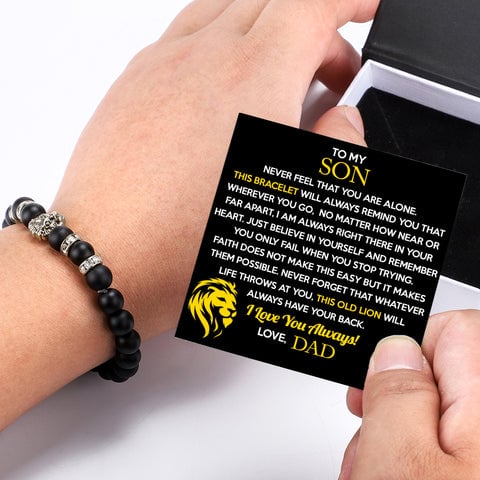 PRODUCT DETAILS
Adjustable Lion Bracelet - Natural matt black onyx stone bead, stainless steel lion head and charms, elastic cord, good for sensitive skin. It does not change color, fade, allergy, deformation, hardness, or brightness. It is a green high-end environment. friendly jewelry that does not cause any side effects and is harmless to the human body
FREE Message card included with every order
Bracelet Size: Bracelet inner size: 7.5 inches. It's elastic and can adjust the size, not easily broken. fits most wrists ranging 6.8-9 inches for both men and women unisex. Bead Size: 22pcs 8mm Natural onyx bead, 2pcs 6mm stainless steel round charm, 1pcs 10mm stainless steel square charm. 1pcs stainless steel lion bead.