The arrival of a cardinal on your windowsill or a nearby tree branch is thought to represent a loved one looking down from the heavens. This spiritual symbol of love and protection provides comfort and peace. Now you can wear a remembrance ring that keeps your own cardinal messenger close wherever you go.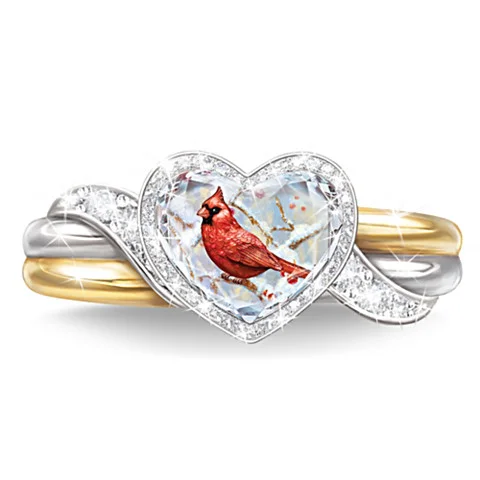 Exquisitely handcrafted, this memorial ring is richly plated in platinum and 18K gold. The intricately faceted, over 3.5-carat simulated diamond heart at the center is custom cut to showcase a beautiful cardinal perched atop a branch. Your cardinal ring arrives with a heartfelt poem card and gift box, perfect for safekeeping or gift-giving. Strong demand is anticipated, so don't delay. Order now!
Know that when cardinals appear, angels are near with the Messenger from Heaven Ring, a fine jewelry design available
This Red Cardinal love ring looks very charming, creative, sweet, and romantic, making you look more elegant.
High-quality materials, and exquisite shapes.
Very suitable for banquets, parties, and appointments! Easy to match with scarves, hats, bags, or everyday clothes.
Available in sizes 5 to 12 (including half sizes).