DESCRIPTION
To My Daughter,
Always remember that the love between a mother
and daughter is like nothing else in the world.
It knows no condition. It knows no limits.
It never fades. A love like ours burns brighter than
everything around us. A love like ours is forever.
The world is incomplete without the sun as I am
incomplete without you. Thank you for being
by my side. You are my sunshine -
radiating brightness and warmth
into my life.
Love, Mom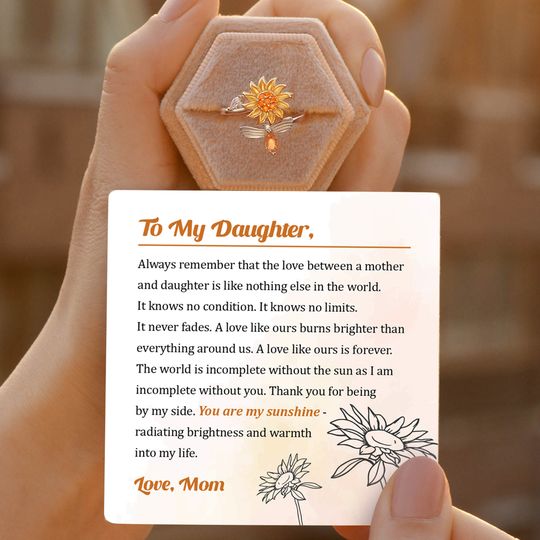 *Heartwarming Message Card Included
The Sunflower…
Mood rings provide meditative, relaxing, anxiety-reducing, nerve-calming, and focus effects. The sunflower of the ring can be spun smoothly, relieving your stress while remaining stylish and classy with its intricate design.
PRODUCT DETAILS
Material: Silver plating on copper
Stone: AAA Grade Cubic Zirconia
Quality: 100% brand new, high quality
Sizes: Adjustable, can fit size 6 to 11