Experience the beauty and tranquility of the ocean with our exquisite Turquoise Ocean Wave 2 Piece Ring from the Ocean Collection. This ring, adorned with high-quality stunning zirconia gemstones, captures the essence of the sea in its unique turquoise-colored design. Perfect as a gift for various occasions, this ring is designed to inspire love, self-confidence, and peace in the wearer's life.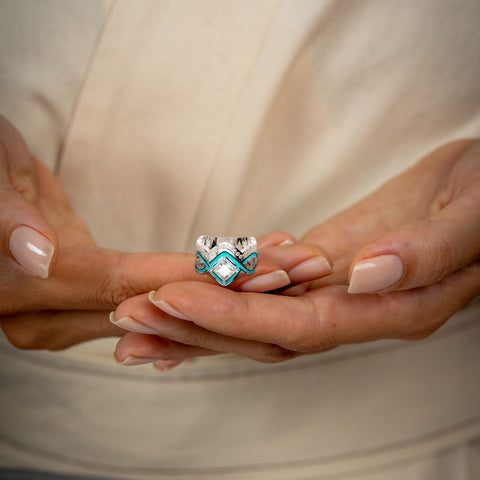 EXCEPTIONAL MATERIAL AND CRAFTSMANSHIP
We understand the importance of using high-quality materials. The Turquoise Ocean Wave 2 Piece Ring is crafted from solid S925 sterling silver, known for its durability, luster, and resistance to tarnishing.
The turquoise shank not only adds a pop of color but also symbolizes the calming energy of the ocean, attracting positive energy and promoting peace and tranquility.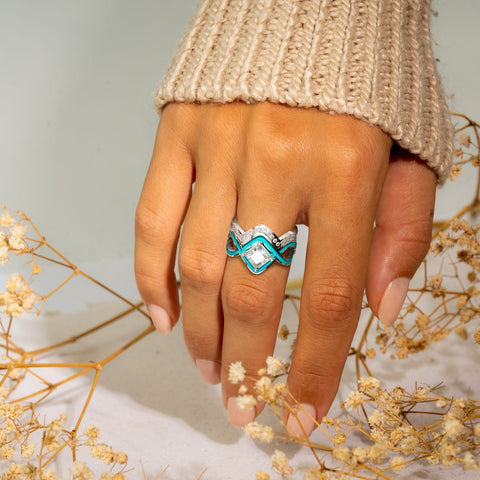 INSPIRING LOVE, CONFIDENCE, AND SERENITY IN YOUR LIFE
The "Turquoise Ocean Wave 2 Piece Ring" is perfect for women of all ages. The intention of this piece is to inspire love, self-confidence, tranquility, and peace in their lives. The ring's design mimics the ocean's waves, giving you the inner peace of the ocean whenever you wear it.
A must-have for any jewelry collection. With its high-quality materials and stunning design, this piece is the perfect gift for yourself or a loved one. It promotes peace and tranquility in your life, reminding you of the calm of the ocean.
SPECIFICATIONS
Ring Size: 5-11
Non-tarnish: Platinum plating
Eye-catching and unique design
A versatile gift for various occasions
Suitable for women and younger daughters
Promotes peace and tranquility in your life
WHAT'S IN THE BOX
1*Turquoise Ocean Wave Ring
1*Silver polishing cloth
1*Free box